ICC on 17th August, 2021 officially announced detailed schedule of T20 World Cup 2021 to be held in UAE/Oman. On the other side, the confirmed schedule of T20 World Cup 2021 warm up matches is yet to be announced.
Round 1
The mega event to be kicked off with the first game scheduled to be played between Papa New Guinea and Oman.
Bangladesh will also make their appearance on the inaugural day and will face Scotland after the 1st match ends. Ireland, Netherlands, Namibia and Sri Lanka will play the matches next day on 18th October, 2021 dominating Group A.
Super 12
Second round following "Round A" will be kicked off on 23rd October, 2021 in Abu Dhabi witnessing first match between Australia and South Africa. Current champion West Indies will take on England on same day.
While the arch rivals England and Australia will face each other on October 30 in Dubai. The group will be finalized on November 6 having matches between Australia and West Indies in Abu Dhabi while England and Sharjah in South Africa in Sharjah.
Group 2 is the most dangerous and popular one as it acquires historic arch rivals India and Pakistan. This mega cricket showoff between India and Pakistan will take place on 24 October, 2021 at Dubai Cricket Stadium.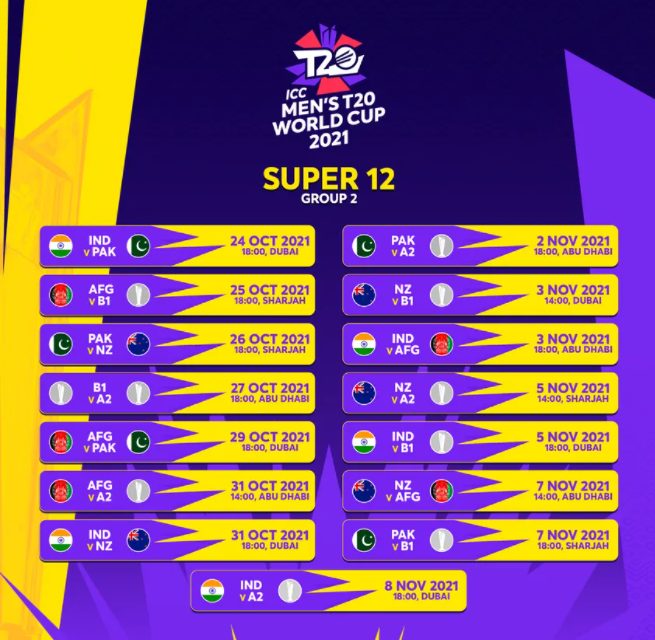 On the other side, Afghanistan team will begin their T20 WC 2021 journey on 25th October at Sharjah facing the winners of Group B from the Round 1.
Semi-Finals
The 1st semi-final match of T20 World Cup 2021 will be played in Dubai on November 10, 2021 at 6 PM Local Time. On the counter side, the 2nd semi final of this mega event will be played on November 11, 2021. ICC has also kept two reserves days for both semi finals.
Final Match
The decider day of champions of ICC T20 World Cup 2021 is 14th November, 2021. Dubai will host FINAL match of ICC T20 World Cup 2021 and the game will be kicked off at 6 PM local time. ICC has also allotted a reserve day as well.
| | | | | | |
| --- | --- | --- | --- | --- | --- |
| Match No | Date | Fixture | Time (IST) | Venue | Stage |
| 1 | Oct-17 | Oman vs Papua New Guinea | 15:30 | Al Almerat, Muscat | Round 1 |
| 2 | Oct-17 | Bangladesh vs Scotland | 19:30 | Al Almerat, Muscat | Round 1 |
| 3 | Oct-18 | Ireland vs the Netherlands | 15:30 | Abu Dhabi | Round 1 |
| 4 | Oct-18 | Sri Lanka vs Namibia | 19:30 | Abu Dhabi | Round 1 |
| 5 | Oct-19 | Scotland vs Papua New Guinea | 15:30 | Al Almerat, Muscat | Round 1 |
| 6 | Oct-19 | Oman vs Bangladesh | 19:30 | Al Almerat, Muscat | Round 1 |
| 7 | Oct-20 | Namibia vs the Netherlands | 15:30 | Abu Dhabi | Round 1 |
| 8 | Oct-20 | Sri Lanka vs Ireland | 19:30 | Abu Dhabi | Round 1 |
| 9 | Oct-21 | Bangladesh vs Papua New Guinea | 15:30 | Al Almerat, Muscat | Round 1 |
| 10 | Oct-21 | Oman vs Scotland | 19:30 | Al Almerat, Muscat | Round 1 |
| 11 | Oct-22 | Namibia vs Ireland | 15:30 | Abu Dhabi | Round 1 |
| 12 | Oct-22 | Sri Lanka vs the Netherlands | 19:30 | Abu Dhabi | Round 1 |
| 13 | Oct-23 | Australia vs South Africa | 15:30 | Abu Dhabi | Super 12 |
| 14 | Oct-23 | England vs West Indies | 19:30 | Abu Dhabi | Super 12 |
| 15 | Oct-24 | A1 vs B2 | 15:30 | Sharjah | Super 12 |
| 16 | Oct-24 | India vs Pakistan | 19:30 | Dubai | Super 12 |
| 17 | Oct-25 | Afghanistan vs B1 | 19:30 | Sharjah | Super 12 |
| 18 | Oct-26 | South Africa vs West Indies | 15:30 | Dubai | Super 12 |
| 19 | Oct-26 | Pakistan vs New Zealand | 19:30 | Sharjah | Super 12 |
| 20 | Oct-27 | England vs B2 | 15:30 | Abu Dhabi | Super 12 |
| 21 | Oct-27 | B1 vs A2 | 19:30 | Abu Dhabi | Super 12 |
| 22 | Oct-28 | Australia vs A1 | 19:30 | Dubai | Super 12 |
| 23 | Oct-29 | West Indies vs B2 | 15:30 | Sharjah | Super 12 |
| 24 | Oct-29 | Afghanistan vs Pakistan | 19:30 | Dubai | Super 12 |
| 25 | Oct-30 | South Africa vs A1 | 15:30 | Sharjah | Super 12 |
| 26 | Oct-30 | England vs Australia | 19:30 | Dubai | Super 12 |
| 27 | Oct-31 | Afghanistan vs A2 | 15:30 | Abu Dhabi | Super 12 |
| 28 | Oct-31 | India vs New Zealand | 19:30 | Dubai | Super 12 |
| 29 | Nov-01 | England vs A1 | 19:30 | Sharjah | Super 12 |
| 30 | Nov-02 | South Africa vs B2 | 15:30 | Abu Dhabi | Super 12 |
| 31 | Nov-02 | Pakistan vs A2 | 19:30 | Abu Dhabi | Super 12 |
| 32 | Nov-03 | New Zealand vs B1 | 15:30 | Dubai | Super 12 |
| 33 | Nov-03 | India vs Afghanistan | 19:30 | Abu Dhabi | Super 12 |
| 34 | Nov-04 | Australia vs B2 | 15:30 | Dubai | Super 12 |
| 35 | Nov-04 | West Indies vs A1 | 19:30 | Abu Dhabi | Super 12 |
| 36 | Nov-05 | New Zealand vs A2 | 15:30 | Sharjah | Super 12 |
| 37 | Nov-05 | India vs B1 | 19:30 | Dubai | Super 12 |
| 38 | Nov-06 | Australia vs West Indies | 15:30 | Abu Dhabi | Super 12 |
| 39 | Nov-06 | England vs South Africa | 19:30 | Sharjah | Super 12 |
| 40 | Nov-07 | New Zealand vs Afghanistan | 15:30 | Abu Dhabi | Super 12 |
| 41 | Nov-07 | Pakistan vs B1 | 19:30 | Sharjah | Super 12 |
| 42 | Nov-08 | India vs A2 | 19:30 | Dubai | Super 12 |
| 43 | Nov-10 | Semi-Final 1 | 19:30 | Abu Dhabi | Playoff |
| 44 | Nov-11 | Semi-Final 2 | 19:30 | Dubai | Playoff |
| 45 | Nov-14 | Final | 19:30 | Dubai | Final |