Cricket is the 2nd most liked Sport in the World and the number of fans of this game is increasing with each coming day. From players' stats and skills to the kits used by them, lovers of this game have kept their eye on each and everything.
Well, it comes to cricketers' gear, Bats used by players are considered the most important tool whether they are On-field or in practice sessions. When cricket lovers tried to pick up new batting sticks they always prefer to purchase the Best Cricket Bats used by Top Notch Cricketers of the World.
Batsmen usually select bats from different Sports Brands like Kookaburra Angry Beast, Spartan CG Authority, and Reebok Blast. However, the selection is made by players based on their strength, playing style, and physical standards of sticks.
Here in this article, we have gathered a List of the Best Cricket Bats in the World. Moreover, you can also find out the Top Batting Brands of the current year. If you are planning to buy a new cricket bat then this article would be helpful for you as we have thoroughly discussed Some Best Cricket Bats Brands along with their Prices and other necessary details.
1. CA Plus 1000
CA is well recognized Sports Brand basically known for its top-notch Sports Accessories. CA Plus 1000 also comes from the production line of this best sports company. CA Plus 1000 is aesthetically designed and made for Power Hitters. This stick uses well-grained English Willow and is Upgraded with an extra-long handle to hit big shots.
2. SS Gladiator
Well, this brand is a favorite of many top-class cricketers due to its unique style and lightweight frame. SS Gladiator also uses English Willow whereas the manufacturers of this stick have worked on its handle to improve grip and control. With 44mm edges, SS Gladiator is designed to put a great impact and allow batsmen to play big shots.
3. Gray-Nicolls Giant
Gray-Nicolls Giant is a completely handcrafted stick with a long handle and balanced edges for professional batsmen. High-quality English Willow is used in the manufacturing of this Bat whereas this stick is designed to provide Matrix Plus Grip and wide control over shots. You can choose this stick if you are planning to play the crucial game in the upcoming weeks.
4. SG RP 777
Die-heart cricket lovers are well aware of this brand as top-notch cricketers like Rishabh Pant and many others used this bat. Manufacturers of this stick have used a brilliant design with a molded shape and extra long handle to enhance grip and control of the stick. SG RP 777 uses English Willow along with mind blogging 41mm wide edges.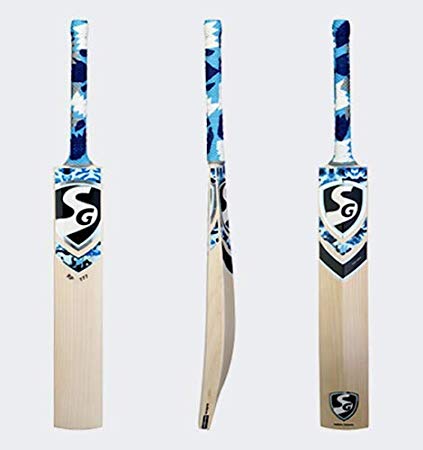 5. Adidas Incurza
Adidas is the leading Sports Brand in the World, supplying a wide range of sports items including shoes, kits, and jerseys. This sports tycoon is also known for being the best cricket bat in the world. Adidas Incurza is one of the best sticks manufactured by Adidas. From design to weight and edges, this stick is just incredible in all aspects.
6. Gunn & Moore Icon
Gunn & Moore is another leading Bats manufacturer in the World. This brand has launched a number of bats in recent years. However, Gunn & Moore Icon is one of their best stick manufactured with English Willow. The company has used state-of-the-art technology to provide the best shape along with weight to this bat. Surprisingly the Bat is quite little weight and is used by many star cricketers including Shane Watson and Alex Hales.
7. Puma Ballistic
The most trust worth and popular Sports brand in the world, Puma has also unleashed their traditional skills for the manufacturing of Bats. Puma Ballistic is the latest product of this company which comes with brilliant design and shape. Puma Ballistic comes with a long handle, sharp edges, and a wide blade to dual the power of shots and increases the control.
8. Reebok Blast
Well, every cricket fan is well aware of the sports brand Rebook as it sports brand is known for its Premium Sports Products. Well, it comes to Bats, Rebook Blast stands on top as this stick is made with high-quality English Willow. Moreover, traditional design which involves heavy weight along with medium handle is used in the manufacturing of this bat.
9. Spartan  CG Authority
Spartan CG Authority is the most used Bat by International Cricketers from all around the world. This Master Piece is designed to provide you ultimate control and grip to play your best strokes. Spartan CG Authority is a modern cricketing bat that comes with incredible spots and sharp edges to play big shots with perfect timing.
10. Kingsport Big Mondy
Our list of Best Cricket Bats ends on Kingsport Big Mondy, the top-class English Willow manufactured bat. Big Mondy is known for their high-end Sports Accessories and this stick is considered Trade Mark of this company. Kingsport Big Mondy comes with a premium design with sharp edges and a long handle to allow you to play big shots.